Staying online 24/7 is crucial
Get notified about your website in advance when it requires attention.
Explore
Uptime/Downtime
Metrics+ continuously checks if your website is available and immediately alerts you if anything is wrong.
SSL Certificate
Invalid or expired SSL certificates cause the 'suspicious website' message, which scares visitors away. Metrics+ reminds you to renew your certificate in advance.
Domain Name
Your most precious asset. Metrics+ reminds you when it's time to renew your domain name.
How it works
Signup & Subscribe
Start by creating your account and subscribing to the plan that fits you the most. You can change your plan later, e.g. when it's time to scale up.
Add Your Website
Once you subscribed to a plan, simply add your website(s) on the dashboard and tune the settings.
Get Notified
Receive e-mail alerts if anything is wrong or about to go wrong – whether it's an SSL certificate that is about to expire or the worst-case scenario – your website is down.
Your Dashboard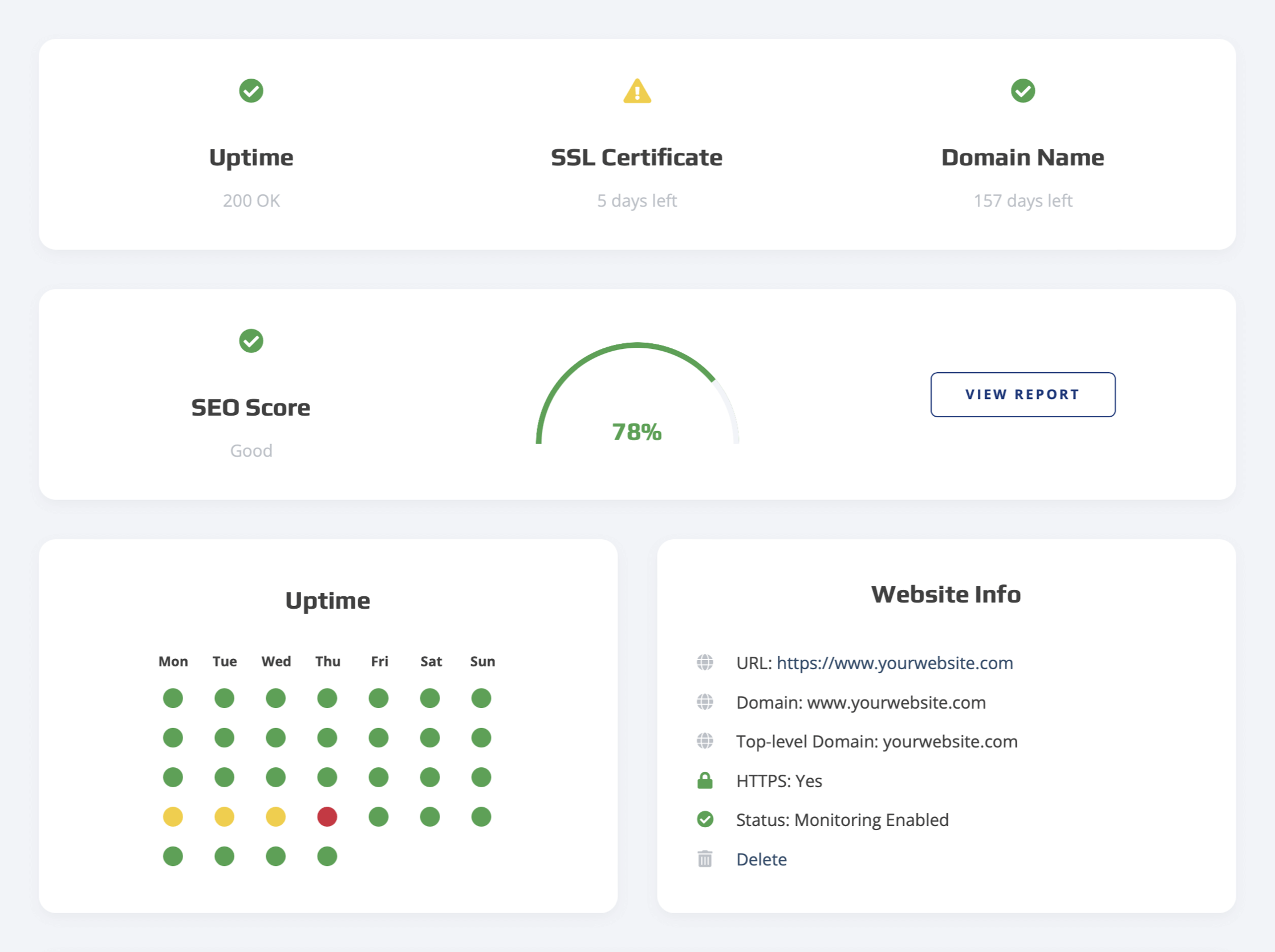 Metrics+ uses open-source tools that provide an external view
of your web assets with everything assembled smartly into a reliable service.
77
websites we are trusted to look after
FAQ
What is website monitoring?
It is an online service that sends you alerts if your website is down or your SSL certificate or domain name is about to expire. We believe that such knowledge gives you the power to prevent major problems with your website and – worst-case scenario – be first to know about a problem.
---
No integration required – how does that work?
---
Do I need to monitor my website at all?
Metrics+ is a part of the Rocking Tech ecosystem